If we do not look out for our fellow Sikh brothers and sisters, the following stories (often told by my parents) will become more and more common.
SikhGiving, a small sikh charitable organization was helping a Sikh Patient Jaswinder Singh and his family to cope with their medical costs of approx. $500 a month. "At first we didn't take up the case as we could not afford to support the case for a long period of 3 years", said Vicky Singh, a volunteer of the California based non profit organization.

The family went to the point where Jaswinder's dad, Sohan Singh had to sell his cycle in order to cover a day's medicine cost. Somehow this news spread out in the public that a Sikh Organization is helping Sohan Singh's family. After that, their local Christian group came with an offer to Sohan Singh's family that they can cover his child's entire medical expenses for 2 to 3 years. They were asked to visit the church to receive the money. Sohan Singh went to the Church feeling that he will be given the money as goodwill by the church.

When he went inside, he was taken by the church officials to attend a special ceremony which was to adopt Christianity as his religion. Sohan Singh and his family are from deeply religious Sikh background. He was given instructions by them that if they want to get the financial support then he has to follow the ceremony which indirectly was to leave Sikhism and adopt their religion. Sohan Singh left the church immediately after he found that in their instructions he was told to eat Parshad (religious offering) of Christ (which was meat).

With the generous help of many donors, we are glad that we took up the case of Jaswinder Singh for the next 3 years, providing them financial, physical and emotional help.

"I never thought that this would be happening to someone in Punjab who is in need of help. Instead of helping a needy person, they are making him to do something which he and his family doesn't want to do. It was a direct hit at us showing that Sikhs in Punjab can't help each other and others are lending hand to help them but with strings attached", said Satnam Singh, the director of SikhGiving.
Did you know there are over 100 Sikh young men from Punjab living on the streets of Southall? We have encountered 2 men over the age of 55 living on the streets.
Where are they living?
In Dustbins
Cemeteries
Disused Garages
Under Bridges
To cope many have turned to class A Drugs, such as Heroin and Crack Cocaine. The reason for this is to cope with the cold, to suppress their hunger and to help them sleep on the streets.
Many are suffering from serious health conditions such as Hyperthermia, Scabies, Gangrene and cannot get immediate medical attention.
What are we doing to help:
Providing Drug care.
Providing Clean clothing.
Providing Sleeping bags.
Providing Hot food.
Providing moral support.
Assisting with those who want to return back to Punjab.
Putting them in contact with health centers.
In the process of commissioning a documentary to be made to highlight the plight of these men.
What are the Local Gurudwaras doing?
Sri Guru Singh Sabah is making sure none of these boys get turned away for Langar and if they are unfit to enter Langar is provided outside for them. Allowing us to appeal to the sangat for any kind of support required and highlighting this issue.
What are the local churches doing?
Providing hot meals.
Providing church halls for drop in centers for the homeless.
Hot showers.
Clean clothes
Counseling service.
As we know Christianity is a missionary religion which through its teaching aims to convert any individual coming through their doors. To date we can confirm that they have converted 2 Sikh men through their love and compassion. How many more will be converted? Who will offer these boys help next? Mosques?
How can you help?
Contact us if you have any Jackets gloves scarves shoes etc.
Let us know if you have contacts that can help in any way ie: Accommodation, Shower facilities, Immigration, Medication, Funds
Any ideas are welcome and if you have the same issue in your own area we are more than willing to help.
Contact info: 07943118441 (UK)
Email: s5dhillon at aol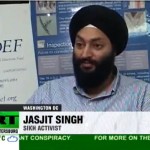 October 16, 2009 (Washington, DC) – Today, the civil rights concerns of the Sikh American community were featured on RT–an international English-language news channel broadcast to more than 200 million viewers in 100 countries on five continents throughout the world.
Sikh people have been targets of intolerance, especially after 9/11 when the anti-Muslim sentiment in the United States was growing. According to a recent poll, 40% of Americans admitted to have a prejudice against Muslims. Oftentimes because of Sikhs' turbans, they get mistaken for Muslims and end up becoming targets for hate crimes, work place discrimination, and racial profiling at airports. Today, because of their turbans, Sikhs still can't enlist in the U.S. army and in some states they can't teach in public schools.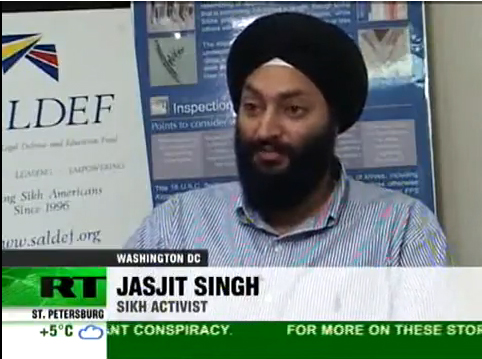 Sacramento, CA. October 11, 2009 – In a surprise blow to the Sikh community, Governor Schwarzenegger last night vetoed a bill that would educate law enforcement officers about Sikh articles of faith. The Governor's decision came as a shock to dozens of organizations, communities and lawmakers who supported the bill. The veto was particularly surprising given the unanimous, bipartisan votes in favor of the bill through both houses of the legislature (77-0 and 36-0 in the Assembly and Senate, respectively).
Take Action: email Governor Schwarzenegger or call him directly at 916-445-2841. Let him know how you feel about him dismissing legislation to ensure law enforcement education on the Sikh articles of faith. Make sure you tell him, "Your lack of support for California's religious minorities is deeply disappointing. As an immigrant yourself, I would have hoped that you would see fit to support other minorities in our diverse community."
"This loss for the Sikh community is a reminder of our serious lack of political clout. After months of hard work and 100% support from our lawmakers, the Sikh voice was still not strong enough to overcome the whim of one man. We have been here for over 100 years, but as a community, we need to learn to exercise our political muscle and our voting power," said Prabhjot Singh, the Sikh Coalition Board Chairman.
The Bill
AB 504 was introduced in February 2009 by Assembly member Warren Furutani (D-Long Beach) to use education to help stem the arrests of Sikhs for carrying their kirpans in California. Over the last few years, we have seen an increase in the arrests of Sikhs nationwide for carrying kirpans. Police mistakenly believe them to be in violation of the concealed weapons laws. Such arrests violate Sikhs' rights, waste taxpayer money, and have a traumatic effect on the person arrested.
AB 504 was our first attempt to change this dynamic. Though the bill did not touch on the legality of the kirpan, it asked that police officers be trained about who Sikhs are and learn about the significance of the kirpan, in the hopes that religious understanding would decrease arrests. While some police and sheriff's departments have recognized the need for this type of training and have been conducting it on an ad hoc basis, this law would have standardized and mandated the process state-wide. The bill would have been the first law of its kind in the United States.
What Happened?
The Governor vetoed the bill as "unnecessary." His message read, "It is the policy and practice of the Commission to periodically review and update existing course curricula.  If the Commission determines that training on the kirpan is warranted, it can create a program without this measure."
The veto came despite the bill's broad endorsement by groups ranging from the Los Angeles County Sheriff's Department and party consultants from both sides of the aisle, as well as several religious and civil rights groups. Every single California legislator was in favor of the proposed law. However, numerous efforts by Sikh community members to outreach to the Governor's office prior to the bill's consideration were greeted with no response from the Governor. We suspect that the final veto was the result of law enforcement's strong desire to avoid promoting the acceptance of Sikhs with kirpans.
The veto message was an outrageous response because the language of AB 504 was modeled on a similar bill about people on the autistic spectrum that was signed by the Governor last year. AB 504 was also drafted with input and approval from the Police Officers' Standard and Training Commission (POST). Given his historic support of similar bills and the Governor's unwillingness to speak with Sikhs about the bill, his veto is considered to be a direct rejection of California's Sikhs. Governor Schwarzenegger is no friend of ours.
"The Governor's response is very disappointing. It shows his lack of support for promoting religious understanding," said Neha Singh, Western Region Director of the Sikh Coalition. "It is an utter shame that he does not understand the value of educating our law enforcement agencies on the diverse communities they are policing."
Next Steps
The Sikh Coalition will continue to engage with POST in the coming months to encourage the training that was recommended in the bill. In addition, we hope to work with Assembly Member Furutani to reintroduce the bill in next year's session. "I am committed to carrying this legislation again until this or any other governor signs it. I urge the Sikh community to stand with me as we continue this fight," said Assembly Member Furutani.
The Sikh Coalition would like to thank Assembly Member Furutani and all of the AB 504 co-sponsors as well as attorney Nitasha Sawhney, Mr. Nirinjan Khalsa, and the American Civil Liberties Union for their tireless efforts to shepherd this legislation through the bill process.
(This text is from an email sent by the Sikh Coalition to the Sikh News Discussion Yahoo Group)