Summary:
New Android version 3.0 ready to download in Android Play Store. You can also opt-in to beta releases for cutting edge features. We need TESTERS! Contact us in comments if you're interested!
Details:
It's been quite some time since we have updated the Sikh Sangeet web/app. With the help of a sevadar, we have been hard at work building the new version of Sikh Sangeet app.
We have decided to focus first on the Android platform. It is probably our more popular platform (boasting over 6000+ at one time in its glory). The Android app was severely broken as well especially on newer platforms.
We have released a very basic version of the app that should get users with the bare minimum in listening to Sikh Sangeet media. Download from the Play Store now. In an agile manner, we will be releasing updates to fill in remaining functionality.
We are also experimenting with open Beta releases in the Play Store. Opt in and help us test as we iterate over experimental features. Provide feedback either through the Play Store app feedback screen. Or, contact us directly at admin@sikhsangeet.com.
Screenshots: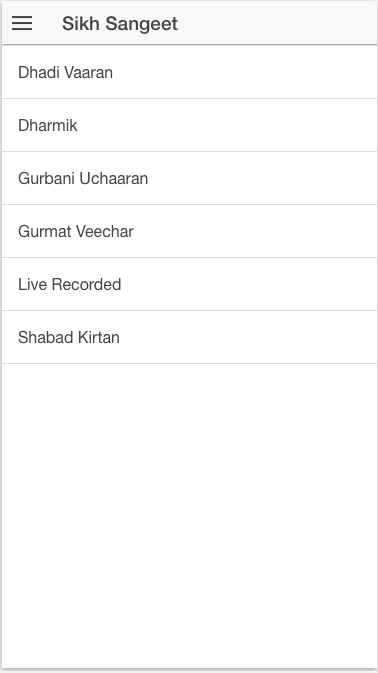 Changelog:
3.0.0 released October 8, 2016
Total redesign
New clean UI
Fix broken music player
3.0.1 released October 17, 2016
Add retry button.
Show changelogs on startup.
Stay tuned for more!